It is possible that I have too many fountain pens. I did not, however, until very recently own a pocket fountain pen; and that one is sufficiently expensive that I'm a little reluctant to take it out of the house. So when I was browsing the clearance section at Cult Pens and saw an Ohto pocket pen at £6 I decided that I Wanted That.

This thing is tiny. According to the info at Cult Pens, it's 93 mm long when closed, and expands to 142 mm long when you remove the cap and put it on the other end. As for the width, it's a snug fit around a short international cartridge. It's much more like putting a nib on a cartridge than putting a cartridge in a pen. It's so tiny it will even fit in the #pockets in women's clothing with room to spare. If you're really in a hurry and can't be bothered to post the cap, you have around 86 mm of pen, which is getting a bit small even for my small hands, but is usable for scribbling a few words. Cap and barrel are aluminium, making it very light for a metal pen; only 11 g.

So, the scribbling words bit. I'd poked around the internet for reviews, and one thing that bugged several people was the cartridge that comes with it; apparently a black ink but more like grey. I have plenty of quality international cartridges knocking around so fed it with a Graf von Faber-Castell deep sea green instead. I did not wash the pen through and dry it first, which has a bearing on the writing feel when I first started using it. It was skipping a lot and feeling very scratchy, with a distinct and tiny sweet spot. I did wonder was it a bad nib or was it just manufacturing oils, but after a week or so of occasional use it smoothed out quite a lot – still a bit scratchy but no skipping.
It would probably have helped to prime it properly rather than running the nib under water and then scribbling for a couple of pages, but to do that I would have had to fill a thin convertor and stick it in the back of the barrel, push through some ink, and then take the convertor out again, because this thing is far too short to take a convertor as its actual ink supply. I did not think of the "and take it out again" bit until afterwards, but may try that on the second pen I bought.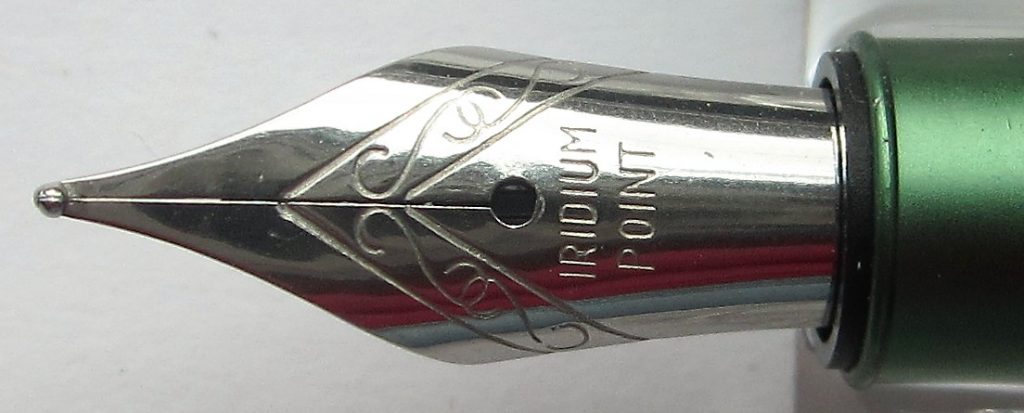 The pen comes from Japan but the nib is unbranded and marked "iridium point" on the green/black one I bought and "iridium point Germany" on the orange/silver, along with a simple but pretty engraved pattern. It's apparently a Japanese medium or European fine, so it's going to be inclined to scratchiness anyway. I can live with it, and it still manages a little line variation. I can't tell how easy it would be to swap it out, but at that price you're not losing a lot of money if you mangle it. Ditto if you feel like adjusting the nib.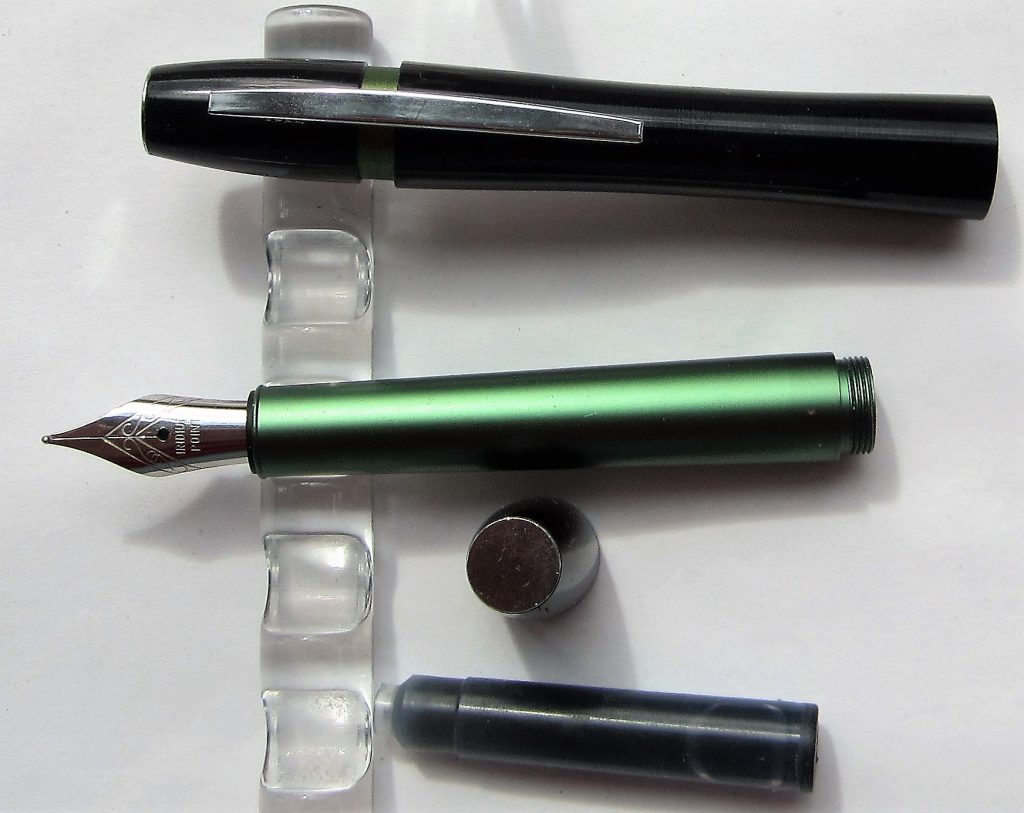 It's a snap cap and very much designed to be posted, so it's unlikely to scratch the barrel. When snapped closed it's solidly seated and needs a good tug to get it off again, but not so for posting. It turns out that you need to post the cap firmly. If you do not it will fly off the barrel at the slightest provocation. You also need to make sure the little piece at the end of the barrel that unscrews to allow you to change the cartridge is screwed on very firmly, because otherwise it will unscrew itself and go for a flying lesson along with the main cap. Ask me how I know…
It has a clip. I generally don't have a use for clips, but this one seems tight and springy.
One thing that I suspect is going to get really irritating is that Ohto miniaturised it by having the lower barrel almost the length of the cartridge, which means only the bottom 6 mm or so of the cartridge is visible once seated. Which makes it very difficult to tell when it's near to empty. And you can't carry a spare cartridge in the barrel…
Summary:
It's tiny. Tiny enough for #pockets. And yet big enough to write with comfortably.
It's very pretty.
The nib's not great but is usable.
You need to be careful about posting.
Better not care about knowing how much ink is left.
I'd have been unimpressed with this at the RRP of £13, but like it enough at £6 that I went and got the orange and silver colourway a few days after buying the green and black version. They're both pretty. 🙂