New editions
October 2019: All of my novels and many of my other titles went out of print in May 2018 with the closure of Loose Id. I'm self-publishing my backlist to get them back into print. So far there are new editions of the Lord and Master novels ("Lord and Master" and "Taking Work Home"), the Spindrift books ("Spindrift" and "Ship to Shore"), and Dolphin Dreams, available for purchase at a range of online retailers via the Books2Read links in the names.
There are also paperbacks. 🙂 Several people asked me for paperbacks back in the Loose Id era. Loose Id had a very limited print programme which didn't include most of my books, and it wasn't practical then for me to self-publish. Now it is, and I'm doing paperbacks as I upload the new editions to Amazon.
Recent sales and publications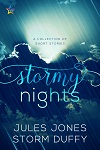 Stormy Nights. Short story collection, 45,000 words, contemporary, m/m. First published as an ebook by NineStar Press on 24 July 2017.
Sex and love, lies and truth, shades in between. Happy endings and might-have-beens. Nine tales of these things between men.
Includes the TRR Top Pick story And if I offered thee a bargain. More details and buy links on Storm's website.
---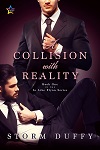 A Collision With Reality. Erotica short story, 7100 words, contemporary, m/m. First published as an ebook by NineStar Press on 2 January 2017.
Flynn's not as anonymous as he thinks when he tells his chatroom friends what he wants his new boss to do to him. When his boss confronts him, Flynn's choice is put up or shut up. He can play out the fantasy or walk away and forget about his fantasies forever.
---
And if I offered thee a bargain. Contemporary fantasy with m/m content, 5,500 words. First published 2012, and currently available in the short story collection Stormy Nights.
The Romance Review: Top Pick This was a wonderful, passionate short story that keeps you reading from the very first line. — AnnetteG
Fallen Angel Reviews: 4/5 and It is unusual for an author to create an intricate world within such a short time, but Mr. Jules's story is perfect just the way it is.
Bibliography and printable list of titles
A full bibliography of my fiction with links to stories, excerpts, cover art and reviews, and a printable list of my fiction. As of August 2019 this is a little (ahem) out of date on details of whether and where the books are available. I'll be updating the pages over the next few months.
I'm mostly published under the pen name Jules Jones. I also write erotica under the name Storm Duffy, who has a website of her very own. You can buy my books directly from the publishers, currently NineStar Press and self-published reprints. You can also find many of my titles at third party retailers, including Amazon UK, Amazon US, Barnes & Noble, iTunes, and various resellers. If I understand what I'm looking at, you can also find my author pages on other national Amazon sites, Amazon France, Amazon Germany, Amazon Japan, and book list pages on Amazon Canada .
Free downloads
Some of my fiction is available for free download on this site, or elsewhere on the web — detailed listing of the free stories.
There are also excerpts available for most of the commercially published stories. You'll find links to the excerpts in the bibliography or the individual pages for the books.