This new mobile-friendly website is still under construction. Right now most of the internal links will take you back to the old Web 1.0 site.
Current book news
18 March 2022: Well, there I went with health problems again. I've been doing book stuff but not website stuff. Anyway, you can now buy reprints of five of my novels which were previously published by Loose Id. They're available in both ebook and paperback format, and I'm even considering using Amazon's spiffy new hardback service. My stuff at Nine Star Press is also available from both their own website and the usual third party retailers. Links below are via Universal Book Links and will take you to a large selection of booksellers.
Taking Work Home (Lord and Master 2)
A Collision With Reality – sorry folks, this is still the only part of In Like Flynn I've completed. It is every bit as annoying to me as it is to you, because it was fun writing absolute filth. 🙂
6 September 2019: And the first of the reprints is now out! First up is Lord and Master, with new cover by Alex Beecroft. Buy links for the ebook at various retailers are below the blurb, although I still need to round up all the Amazons. (Now there's a story idea.) And this edition is also available in paperback!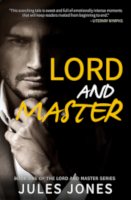 When Mark's PhD supervisor sent him for a job interview with an old university friend, he didn't mention that the friend was devastatingly handsome. He also neglected to mention to either that the other is gay.
Steven was just looking for a young scientist to train as a PA to help him run his technology company. No extra services required. But watching other people react to a young, pretty man playing secretary to an openly gay CEO amused them both. Watching people wonder if they were having an affair was an entertaining game.
But when the game became real and caught them both up, Mark was left wondering… how real? Because he's the one PA in the building who can't marry the boss.
62,000 words
Draft2Digital universal link: https://books2read.com/u/38EMkZ
Amazon Australia: https://www.amazon.com.au/dp/B07WQHPZBW
Canada: https://amzn.to/2HBeK5h
Netherlands: https://www.amazon.nl/dp/B07WQHPZBW
Italy: https://www.amazon.it/dp/B07WQHPZBW
UK: https://amzn.to/2My7oU8
US: https://amzn.to/2Zr7BKV
27 August 2019: The Lord and Master novels and Spindrift books are now available for purchase and pre-order at a range of online retailers. Dolphin Dreams is in preparation and should be available in October, with pre-orders opening shortly. Others will follow, including epub and mobi versions of the Lord and Master short stories, but I don't have a time scale yet. There are also paperbacks. 🙂
4 August 2019: I'm finally setting up reprints of my Loose Id books, with some generous help from Alex Beecroft. They'll all have new cover art – and some will be available in paperback as well as ebook. First up will be the Lord and Master books, which should be available by the beginning of September, and possibly a little before. The Spindrift books will follow. Alex has created gorgeous covers for these, and I'm looking forward to showing them off.
13 May 2018: My primary publisher, Loose Id, has alas closed as of 7 May 2018. My books published through them are now out of print. I intend to make the books available again, but that takes a lot of time and energy, which is a resource I'm rather short of at the moment. I'm focusing on writing new material for now.
If you're still looking for something of mine to read, I do have books at NineStar Press under the name Storm Duffy, which are still available and will be for the foreseeable future.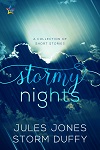 24 July 2017: A collection of some of my short stories Stormy Nights has been published by NineStar Press. It includes stories from both pen names, including the Romance Review Top Pick And if I offered thee a bargain. More details including purchase links at Storm Duffy's website.

2 January 2017: I've sold a short story series to NineStar Press, and the opening story is now available. You can find more about A Collision With Reality, including an excerpt, at the NineStar Press website. Yes, that is a new pen name on the cover.