This new mobile-friendly website is still under construction. Right now most of the internal links will take you back to the old Web 1.0 site.
Current book news
4 August 2019: I'm finally setting up reprints of my Loose Id books, with some generous help from Alex Beecroft. They'll all have new cover art – and some will be available in paperback as well as ebook. First up will be the Lord and Master books, which should be available by the beginning of September, and possibly a little before. The Spindrift books will follow. Alex has created gorgeous covers for these, and I'm looking forward to showing them off.
13 May 2018: My primary publisher, Loose Id, has alas closed as of 7 May 2018. My books published through them are now out of print. I intend to make the books available again, but that takes a lot of time and energy, which is a resource I'm rather short of at the moment. I'm focusing on writing new material for now.
If you're still looking for something of mine to read, I do have books at NineStar Press under the name Storm Duffy, which are still available and will be for the foreseeable future.
24 July 2017: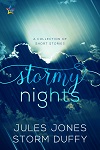 A collection of some of my short stories Stormy Nights has been published by NineStar Press. It includes stories from both pen names, including the Romance Review Top Pick And if I offered thee a bargain. More details including purchase links at Storm Duffy's website.

2 January 2017: I've sold a short story series to NineStar Press, and the opening story is now available. You can find more about A Collision With Reality, including an excerpt, at the NineStar Press website. Yes, that is a new pen name on the cover.