This new mobile-friendly website is still under construction. Right now most of the internal links will take you back to the old Web 1.0 site.
Current book news
24 July 2017: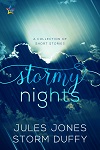 A collection of some of my short stories Stormy Nights has been published by NineStar Press. It includes stories from both pen names, including the Romance Review Top Pick And if I offered thee a bargain. More details including purchase links at Storm Duffy's website.

2 January 2017: I've sold a short story series to NineStar Press, and the opening story is now available. You can find more about A Collision With Reality, including an excerpt, at the NineStar Press website. Yes, that is a new pen name on the cover.
31 December 2015: My novelette Black Leather Rose is now free at the Loose Id website.
10 November 2015:
New short story Knotting the Tie is out today from Loose Id — and it's free, at least for now. This is a standalone sequel to Nice Tie, although there's no need to read the novel first.
2 June 2014: The Dreamspinner Press anthology Not Quite Shakespeare, which includes my short story Bread and Butter Pudding, is now available directly from Dreamspinner's website in both ebook format (ISBN-13 978-1-63216-020-1) and trade paperback (ISBN-13 978-1-63216-019-5). It's also available from third party retailers, including Amazon UK, Amazon US, and Kobo.
17 April 2014: I have a short story in Barbara Cardy's Mammoth Book of Urban Erotic Confessions
, out today in the UK, and scheduled for June 2014 in the US
.
11 November 2013:
Top Pick from The Romance Review for And if I offered thee a bargain. 🙂 (July 2017: The Musa edition is now out of print, but the story is included in the collection Stormy Nights.)
18 April 2013: My short story A Sparrow Flies Through has been published in Maxim Jakubowski's Mammoth Book of Erotic Quickies. Purchase links for Amazon UK
, and Amazon US
.