Reviews of Lord and Master 2: Taking Work Home
Romance Junkies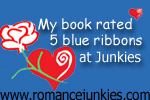 "A fantastic yaoi type novel reflecting a slice of everyday life with all its trials and tribulations including family interference." -- jhayboy, 5/5
Fallen Angel Reviews
"The love and devotion shown between Mark and Steven is evident in their every day life and each time they are intimate. I hope that this isnít the end of their story." -- Teresa, 5/5
Just Erotic Romance Reviews
"I absolutely LOVED this book... As soon as I finished Taking Work Home, I got a copy of Lord and Master to read how it all started." -- Marcy Arbitman, 5/5
Full review in JERR newsletter 133.
eCataromance
"Ms. Jones does an amazing job of providing characters that are imperfect in ways that just make reading their story that much more delightful." -- Keely Skillman, 5/5
Elisa Rolle
"If you fancy a silver romance, Taking Work Home is really a good choice, even if now I'm waiting to read of their marriage and of all the organization before it."
Literary Nymphs
"This is a wonderful novel for those who have fantasies of a boss, his desk, and a view of the city as their backdrop." -- Scandalous Minx, 4/5
BevQB
"Jules has breathed life into her unique and memorable characters in this slice-of-life, heartwarming story."
Logophilos
"The writing is clean, though workmanlike, the characters are engaging and attractive, and the love story between them is appealing." -- Ann Somerville