Reviews of Black Leather Rose
Night Owl Romance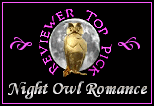 4.5/5, Reviewer Top Pick
"This is a beautifully written short fic, full of emotional realism and deft observation, which lifts it well out of the common run." -- Alex Beecroft.
Literary Nymphs
4/5 "Black Leather Rose is a fiery romance packed into a short story... A quick read thatís sure to leave you wanting more."
Full review.
ParaNormalRomance.org
Azteclady
"This short m/m e-story published by Loose Id is my first exposure to Ms Jonesí writing and I have to say that Iím delighted."
Full review.
Elisa Rolle
"Jules Jones has an happy hand to decipt very complex but nice geeky characters."
Full review.