Fiction
Recent sales and publications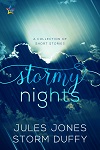 Stormy Nights. Short story collection, 45,000 words, contemporary, m/m. First published as an ebook by NineStar Press on 24 July 2017. More details and buy links on Storm's website.
Sex and love, lies and truth, shades in between. Happy endings and might-have-beens. Nine tales of these things between men.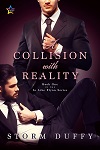 A Collision With Reality. Erotica short story, 7100 words, contemporary, m/m. First published as an ebook by NineStar Press on 2 January 2017. More details and buy links on Storm's website.
Flynnís not as anonymous as he thinks when he tells his chatroom friends what he wants his new boss to do to him. When his boss confronts him, Flynnís choice is put up or shut up. He can play out the fantasy or walk away and forget about his fantasies forever.
Knotting the Tie. Erotic romance short story, 6200 words, contemporary, m/m. Standalone sequel to Nice Tie (the latter is currently out of print). First published as an ebook by Loose Id on 10 November 2015. ISBN: 978-1-68252-021-5. More details and excerpt here, and full story available free from Loose Id.
After a year together, Alex knows what he has with Robin is for life, and he wants to stand up and say so in public. Itís time to propose, and heís doing it the old fashioned way Ė roses, champagne and going down on one knee.
Any Port In a Storm. Erotica short story, 5000 words, contemporary, m/m/m. First published in Mammoth Book of Urban Erotic Confessions
(edited by Barbara Cardy), published by Constable & Robinson in the UK
on 17 April 2014, and by Running Press in the US
June 2014.
Also available in the shorty story collection Stormy Nights.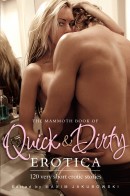 A Sparrow Flies Though. Erotica short story, 1,500 words, contemporary m/m, published in The Mammoth Book of Quick and Dirty Erotica, by Constable & Robinson in the UK
on 18 April 2013 (ISBN: 9781780337913), and Running Press in the US
on 25 June 2013 (ISBN: 9780762448135).
High tech cottaging provides a few moments of light and warmth on a dark cold night.
Also available in the shorty story collection Stormy Nights.
And if I offered thee a bargain. Short story, published as an ebook by Musa Publishing's Erato imprint 7 September 2012. Contemporary fantasy with m/m content, 5,500 words. This edition went out of print with the closure of Musa in February 2015, but the story is currently available in the short story collection Stormy Nights.
The Romance Reviews: Top Pick This was a wonderful, passionate short story that keeps you reading from the very first line. -- AnnetteG
Fallen Angel Reviews: 4/5 and It is unusual for an author to create an intricate world within such a short time, but Mr. Jules's story is perfect just the way it is.
Free downloads
Some of my fiction is available for free download on this site, or elsewhere on the web. There are also excerpts for many of the commercially published stories - you'll find links on the individual pages for the books.
Bibliography and printable list of titles
A full bibliography of my fiction with links to stories, excerpts, cover art and reviews.
A printable list of my fiction.
I'm mostly published under the pen name Jules Jones. I also write erotica under the name Storm Duffy, who has a website of her very own. You can buy my books directly from the publishers, primarily Loose Id and NineStar Press. You can also find many of my titles at third party retailers, including for Jules Jones Amazon UK, Amazon US, Barnes & Noble, Google Play, iTunes, and various resellers.
If I understand what I'm looking at, you can also find my author pages on other national Amazon sites, Amazon France, Amazon Germany, Amazon Japan, and book list pages on Amazon Canada
.
Work in progress
Or not in progress, as the case may be. Most of this isn't being actively worked on at any particular time. It's stuff that will happen eventually, and in many cases there's a significant chunk of it already in existence. Things that show up in this section are often short stories or novelettes that will be reworked into novels. I've got a bad habit of starting to write a short story for an anthology, and ending up with something that gets accused by beta-readers and editors of being the synopsis for a novel. If it's listed here, they can see what its current status is without nagging me about it.
The baronetcy story - contemporary m/m/f novel. This is the novel length Thing that has been occupying my brain for the last couple of years, after I started writing a short story. Various editors can stop sniggering, thanks. It's been 5000 words to go for the last 30k, but as of the end of 2016 I think it genuinely is only 5k words to go to the end of the first draft.
In Like Flynn, the rest of it. The observant may have noticed a series title on A Collision with Reality. "Where's the rest of it?" people have said (possibly soon to include my editor if I don't get on with it). Er - I appear to be writing it backwards. There's a substantial chunk written of the last two out of a likely six stories. The ones in between are another matter.
Taxman -- urban fantasy set in contemporary London. Subject of a whine in rasfc about not sure whether it's one for an sf publisher or a romance publisher, but currently being aimed at the latter.
Lord and Master 3 -- I have a plot and the first 15 18 kwords. It may be a while before there's any more than that.
Buildup 3 -- I will write it one day. I swear I will...
Work not in progress
"He's dead, Jim." Some things are now in the "abandoned" category, for various reasons.
Dec 2011: In particular, it's highly unlikely that most of the partials co-written with Alex will ever be finished -- she's been seriously ill, is effectively unable to write commercial fiction for the forseeable future, and will probably not be able to pick up several of our joint projects even when she recovers. One of them I might be able to finish solo, but most of them were very much the product of the interaction between us. I might put up the fragment of the Syndicate honeymoon story that exists, if the beta-readers say that what's there is worth reading as is. (ETA Jan 2012 - the Syndicate honeymoon fragment and writers' notes are now available on the site.)